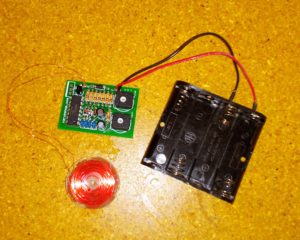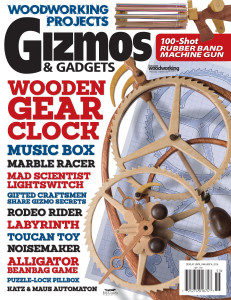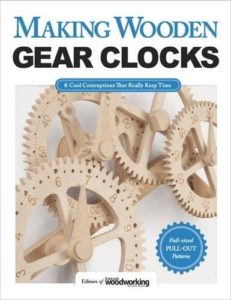 Standard Circuit for Electromagnetic Gear Clock
For those building the Electromagnetic Gear Clock from Gizmos and Gadgets magazine or Making Wooden Gear Clocks magazine, we offer a complete electronics kit with circuit board, battery box, coil, and magnet.
$44.99 plus shipping
If kits are in stock, I normally ship within 2 business days. If out of stock, there can be up to a 2 week delay.
In the US
Shipping via Priority Mail is $8.05. Click the Buy Now button to order and pay via PayPal or credit card.
If ordering multiple kits, DO NOT click Buy Now. Contact us with your shipping address, and we will send you an invoice with correct shipping cost for multiple kits.
Outside the US
Shipping is via First Class Package International is $16.50.  Click the Buy Now button to order and pay via PayPal or credit card.
If you need expedited shipping, contact us with your shipping address. We will send a PayPal invoice which you can pay with a PayPal account or a credit card.
Information on our Standard Circuit
The standard electromagnetic drive circuit was used by the Gizmos clock designer.  It uses a fixed pulse width that can be adjusted via a trim potentiometer. The gain of the trigger can also be adjusted. This drive is also suitable for a wide variety of pendulum designs.
carveshop.com Regulated electronics
In my own clock designs, I use a special regulated circuit with a microcontroller to adjust the pulse to the pendulum to maintain accurate time. It works only with a 1 second period pendulum, and the pendulum and mechanism must be able to tolerate variation in swing angle of at least 15 to 25 degrees.
If you are interested in designing your own clock with automatic regulation, this circuit may be of interest to you.
Please read the description carefully! This circuit will not work with the Electromagnetic Gear Clock published plans!
Contact us for availability of this regulated circuit.